3 Ways to Tell if You're Dealing with a Faulty Hard Drive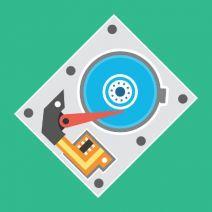 Every business owner knows how imperative technology is to their success. Sometimes it's the most common problem which can keep you from being as productive as possible. It's not always evident when technology is about to fail, but there are some general signs you should look for when you're skeptical that your hard drive is about to kick the bucket.
Technology is expensive. We know that. That's why it's important to identify problems with your hardware, and either correct them or replace the machine before it causes expensive downtime. Here are three signs to look for to detect an incoming hard drive failure.
Your System's Speed Is Suffering
Your computer's speed can be an identifying factor if you think that there's some sketchy business going on behind those panels. A PC shouldn't be lagging, especially when at the workplace. These machines should be optimized for productivity, and when the system keeps freezing, you know there's something wrong with it. In this case, it's often a hardware-related issue, and should be addressed immediately.
Frequent Computer Crashing
You know that the dreaded blue error screen can't possibly mean anything good, but did you know that this "blue screen of death," can signify that your hardware is failing? One way of telling whether it's the hard drive or not is if you can access files stored on the device. If the computer crashes when you try to open these files, it's likely that the hard drive is experiencing difficulties.
Strange, Unprecedented Sounds
Naturally, that clinking sound that your PC is making probably doesn't hint to normal functionality. In general, the more sound your computer is making, the more likely that your hard drive has just about bit the bullet. If it sounds like there are parts grinding inside your computer, chances are that something is wrong. Listen for abnormalities and contact a trusted technology professional, like those at White Mountain IT Services, to help you assess the damage before it gets worse.
The Solution
If you're always on the lookout for problems, they can distract you from what your job really is, running your business. You shouldn't have to put important meetings or tasks on hold out of fear that your technology will stop operating properly. This is where managed IT services from White Mountain IT Services come in. We take proactive measures to ensure that your technology continues to operate even in the darkest of times.
If you're worried about your technology biting the dust when you least expect it, we can monitor it for discrepancies which might cause complications, like downtime, security vulnerabilities, and even problems with core functions. We can implement vital patches and upgrades to your systems to ensure maximum security. Just give White Mountain IT Services a call at 603-889-0800 to learn more.
By accepting you will be accessing a service provided by a third-party external to https://www.whitemtn.com/