What Kind of Network Would Best Serve Your Business?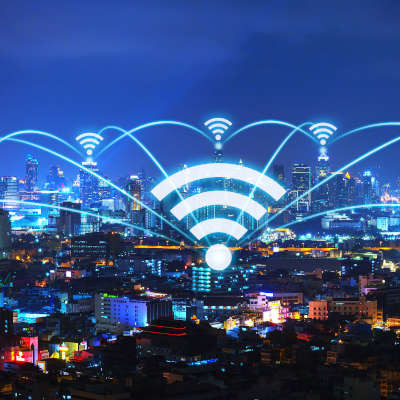 The way your business uses and accesses data is changing. A short time ago, you couldn't imagine that you would have a comprehensive strategy to keep data secure when sending and receiving it wirelessly, but today wireless transmission methods have become more secure, reliable, and fast. This month, we'll take a look at the difference between wired and wireless connections in the modern business.
A Wireless Connection
The Pros
There is one obvious benefit to the wireless network: No wires! It is a big benefit not having to run cable, and being able to access resources anywhere within range on nearly any device makes a big difference. In giving your team access to network resources wirelessly, your business will be better suited for collaboration and enhanced productivity.
What's more, with a strong wireless network in place, you can promote some strategies that can work to improve your operational effectiveness. One of those strategies is a Bring Your Own Device (BYOD) policy. Many of your employees bring their smartphones with them when they come to work and if you don't have a BYOD policy, they are absolutely a risk. By enacting a BYOD strategy, your staff firmly understands that while their phones can be a positive for the company, they can also be a problem and that the company has steps it can take if that negative reality comes to fruition.
The Cons
With the convenience of a wireless network, the speed and security aren't what they would be with a wired connection.
You see, wireless connections are more vulnerable than wired ones. It's easier for unauthorized individuals to hijack the signal of a wireless connection and can provide a third-party with access to the critical information that is transmitted wirelessly.
The Wired Connection
The Pros
When dealing with wired networks, IT administrators maintain a higher degree of control over what devices can connect to the network. This presents value is multiple ways, none more important than the degree of security wired connections promote.
Additionally, wired networks are usually much faster than wireless networks. This speed boost is magnified if there are walls, floors, ceilings, or any other potential interference to seeing optimal speeds over Wi-Fi.
The Cons
The biggest drawback to a wired Internet network is the act of wiring the network. The cost and time are higher than it would be to set up a wireless network, and it can also be a hindrance for maintenance if a cable fails or hardware has to be moved around due to business growth or restructuring.
Another detriment to the business is that a wired connection doesn't allow for the type of mobility many businesses are looking for nowadays. With a wireless connection, meetings are faster, more to the point, and collaborative work can be fluid.
If your business is looking to build a powerhouse wireless network, or if you prefer a wired network and need help networking your office, give the IT professionals at White Mountain IT Services a call at 603-889-0800.