How Your Company's Local Network Can Benefit from Cloud Computing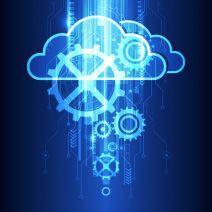 There's a reason why so many businesses have adopted the cloud as a valuable asset, and it's because it improves the deployment and accessibility of critical information and applications. These benefits are so valuable that organizations are always trying to find a reliable way to replicate them for the rest of their business systems. This includes your internal network infrastructure.
So, what can the cloud offer in terms of lessons for your internal IT operations?
How the Cloud Differs from Traditional IT
The cloud specializes in taking traditional elements of IT and transforming them into software solutions. In other words, these solutions are stored in the cloud and deployed on a per user basis. Basically, taking advantage of the cloud and virtualization technologies allow for greater agility, which your internal network can attempt to replicate. Since the cloud is a service that's easily outsourced, businesses can take full advantage of cloud solutions without worrying about the upkeep or management of them.
Compared to your business's in-house network, the cloud is a more efficient manner of data deployment. As reported by CyberTrend:
The reason why the cloud was able to arrive on the scene and help companies outsource so much of their infrastructure is because it can often offer performance and other benefits that internal IT teams simply can't match. Traditionally, IT teams have had to deal with a "procurement process" where they have to "go out there, attain the hardware, and get it configured," which requires quite a few manual activities to actually get everything online and to move the necessary workloads.
In short, cloud computing is vastly more effective for both the deployment of data and applications, and the maintenance of your organization's software solutions. White Mountain IT Services can help your business achieve the same level of success with both your cloud-based infrastructure and your own in-house IT. By outsourcing the hosting of your cloud and network infrastructure needs to us, we can increase your business agility and allow for far greater flexibility and cost savings.
For example, virtualizing your business's desktops allows you to use thin clients, which cut down on electricity and capital expenses. Furthermore, it's much easier to deploy updates and patches, as the desktops are deployed from the cloud. By hosting applications in the cloud, you also open up the ability to work from home for your staff, further saving on energy costs.
For more information about how White Mountain IT Services can simplify your network infrastructure and effectively utilize cloud computing, give us a call at 603-889-0800. Together, we can help your business's profits shoot sky-high.