4 Ways to Prepare Your IT For the Future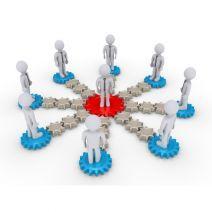 With the aid of technology, today's workforce is more connected and faster at responding to problems than ever before. While this is great for productivity, it presents challenges for business owners to offer their workers current solutions that won't hold them back. For many old-school employers, this may require a new way of approaching technology.
What we mean by this is that, due to the fast-paced changes and high demands of today's work environments, older technology strategies like "just go with what's always worked," may not cut it. Here are four approaches to technology that future-minded business owners should adopt.
Quit Fighting Mobile Devices In the Workplace
When mobile devices first hit the scene, many business owners were skeptical of whether or not they could really be a productive force in the workplace. Plus, there was the concern of employee-owned mobile devices compromising network security. While both of these concerns were valid when mobile devices first came out, enough mobile solutions have been developed over the years to make mobile devices a secure and productive force in the workplace (if they're properly implemented and managed). If you decide to embrace mobile technology in your workplace, we think you'll be pleased with the results.
Design Your IT Infrastructure to Accommodate the Workload of Future Needs
As wonderful as all of these new, productivity-enhancing solutions are, they require a significant amount of network resources and bandwidth. Therefore, you're going to want to design your network with future needs in mind, like more people on your team taking advantage of video conferencing (a resource-heavy solution). To have a network that's agile enough to handle the future of your business, you're going to want to consult with the technology professionals at White Mountain IT Services who are knowledgeable of IT trends that affect your industry, and what it takes to implement these money-making trends.
Learn How to Let Go of Faithful Solutions of the Past That No Longer Cut It
For some business owners, "out with the old and in with the new" is difficult to adopt when dealing with a solution that's faithfully served your organization over the years. While it's good to be sentimental when it comes to birthday cards and family photos, being overly attached to outdated technology can have disastrous consequences to your bottom line, especially if your competitor has adopted a better solution. This is the benefit of having a fresh, outside perspective assess your company's technology infrastructure. IT professionals like White Mountain IT Services are able to spot outdated solutions that you may not even know are holding you back.
Strive to Make Technology More Simple
The goal of updating your enterprise-level technology is to make everything simpler. New solutions that are added haphazardly and without a plan have the potential to complicate matters, which will offset what you're trying to achieve by adding the new solutions in the first place. NetworkComputing cites communications technology as an example:
By integrating communication functions like calling, faxing, texting, and hosting virtual meetings, with software suites like Google and Microsoft, everyday communication becomes easier. Consolidate the number of siloed tools it takes for workers to get their jobs done. Give employees the luxury of never having to toggle between multiple screens or search for customer contact information again.
At the end of the day, it's all about planning for the future, so your profits don't get stuck in the past. White Mountain IT Services can help prepare your network for anything the future throws at it. To stay ahead of the curve by taking a future-minded approach to technology, give us a call at 603-889-0800.