Is Your Business Prepared to Take On the BYOD Revolution?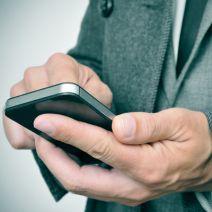 Bring Your Own Device, or BYOD for short, is an important business trend that's growing in popularity. BYOD allows users to bring their own devices to the workplace and use them for their everyday duties. While we often discuss the security issues that BYOD presents, it's crucial to also mention the many benefits that BYOD offers for small and medium-sized businesses.
Personal devices are practically impossible to leave out of the office these days. So many business executives rely on their smartphones to communicate, it's as if the device has become a fully integrated part of the organization. In truth, BYOD scares some organizations due to the uncontrollable nature of unregulated mobile devices. What they don't know is that there's always going to be risk present when making changes to the way you do business, especially if you're adding more devices to your network. While BYOD does indeed present a risk, there's a reason why BYOD has grown to be so popular.
Nowadays, BYOD is a common occurrence in the office. Once people got over their initial paranoia surrounding BYOD, they realized that the trend could be used much to their benefit. For example, end-users are more satisfied when using their own devices in the workplace. More often than not, they would rather use technology they're familiar with, rather than a workstation that's frustrating to maneuver around. Furthermore, businesses that have BYOD policies just seem to get more done. When employees have access to their work accounts and tools, they're more likely to work from home and when traveling, which means there's a possibility for more work to get done. This helps make progress on important initiatives that might not be possible with their current schedule.
One of the often-forgotten benefits of BYOD is that it takes a big load off of your internal IT department. Since your end-users are supplying their own technology for the workplace, this saves on the costs of purchasing and setting up new hardware solutions for every employee you have. If you're concerned about software being unavailable for your team, think again; the cloud and virtualization services allow for remote access to critical business systems and data, making BYOD an even sweeter proposition.
Of course, this is also a double-edged sword. Since you're relying on your team to apply critical updates to their own technology, you run the risk of them not applying them. While it's certainly more likely that they'll be performing maintenance and other updates, since they actually own the devices, it's not a given. This also means that even if some of IT's responsibilities are put in the hands of workers, there are still roles that IT must play in order to ensure that BYOD is still a secure and effective alternative to company-provided tech.
One component of a comprehensive BYOD policy is using a mobile device management solution. This entails minimizing risk associated with allowing mobile devices to have access to sensitive information. Our mobile device management solution is ideal for organizations that need application management, file sharing, and data security for mobile devices. If your business needs help organizing a solid BYOD plan, a mobile device management solution from White Mountain IT Services is a good first step. To learn more, give us a call at 603-889-0800.