Here Are 3 Reasons Voip Makes Perfect Sense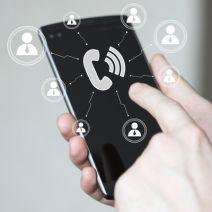 Businesses have always relied on telephone communication systems to stay in touch with external and internal contacts. However, the traditional method of telecommunication has fallen behind the times, giving way to more flexible solutions that are designed to save businesses money and improve efficiency. In particular, Voice over Internet Protocol can be a valuable asset for small businesses that are experiencing growth.
---
Rather than using telephone lines to transfer and receive calls, VoIP uses the Internet to send your voice to the recipient. Considering how most businesses need an Internet connection in the first place, using VoIP is simply utilizing a technology that's necessary in order to eliminate an unnecessary expense.
Differences Between VoIP and Traditional Phone Systems
Does your business utilize VoIP? If not, you should consider doing so as soon as possible. It's a great way to cut down on your operational costs and improve workflow. Here are some of the main differences and advantages that your organization can experience from using VoIP as a part of your communications infrastructure.
Additional features: While your traditional phone system might support services like caller ID, user blocking, call forwarding, conference calling, etc, VoIP offers all of these services, plus some. Unlike the traditional phone system, which you need to be close to the receiver to use, VoIP works right from your desktop PC, laptop, or smartphone. As long as you have an Internet connection, you can use your work number from anywhere, allowing for flexibility that the traditional phone system envies. Plus, VoIP offers several other features, including video conferencing, which can be very helpful for bridging the gap between employees while working remotely.
Decreased costs: If you're paying for both a landline and an Internet connection for your office, you're essentially paying for one too many services. Considering that landlines are often bundled with other services that you may not necessarily want, it's more affordable and efficient to simply use VoIP as your preferred communications solution. Add in the fact that you can say goodbye to long distance, and you have a convenient and cost-effective package.
Flexibility: Traditional phone systems require an immense amount of work to add new lines to an infrastructure. Depending on your office's setup, new phone lines need to be installed, and you might even need to remodel your office. Both can be expensive, but with VoIP, you don't need to waste time or money on improving your infrastructure. As long as your Internet connection and internal network can sustain the traffic and strain, VoIP will work as intended.
If your organization is ready to implement a solid new communications infrastructure, a VoIP solution can go a long way towards improving operations. To learn more, give us a call at 603-889-0800.