Your Legacy Technology Could Be Holding You Back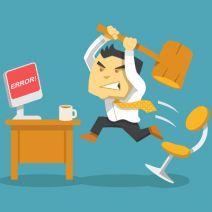 When was the last time you provided your business with improved technology that offers a great return on investment? If your business is using software and hardware that hasn't been updated in several years, the same technology that's necessary for your operations could be holding you back from achieving optimal efficiency.
As reported by ZDNet, research from Forrester has revealed that only 28 percent of IT investment is used for innovation, and the rest of the resources are dedicated to taking care of older technology. This should come as a surprise. You'd think that most companies would be on the lookout for quality tech solutions that are designed to improve their ability to innovate, but it seems that many are so stuck on their legacy technology that they simply don't have the funds (or interest) available to do so.
When you run legacy technology, you're taking many unnecessary risks. For example, an old server unit is much more likely to break down when you least expect it. This could lead to unprecedented data loss if you're unprepared. Furthermore, the downtime caused by unexpected hardware failure can be detrimental to the survival of your business. All of this can be avoided by updating your server hardware to hardware that's less likely to fail, provided proper maintenance is performed.
Another example is running an outdated operating system, like Windows XP, on your workstations. Microsoft no longer supports many older operating systems, which means they don't run with the latest patches and security updates that are necessary to stay protected from the myriad of threats that want to attack your network. By upgrading to the latest operating system, you avoid the threats that come with remaining unsupported.
As technology innovators ourselves, we know how hard it can be to let go of familiar old technology and place your bets on something new; but we also know the immense value of leaving legacy technology behind. One way you can get the most from your technology is with a consultation from White Mountain IT Services. We can visit your office and conduct a thorough audit of your office's technology assets. We suggest changes that can be made, and offer our services to those who are in need.
The main benefit of running with White Mountain IT Services is that you experience the cost savings that come with managed IT solutions. We can perform any number of functions that an in-house IT department would be responsible for, like upgrading workstations and server units, backing up and restoring data, and much, much more. The attraction of managed IT is that you only pay a fixed rate for the services, rather than a break-fix fee every time you need a machine looked at or replaced. Just give us a call at 603-889-0800 to learn more.
By accepting you will be accessing a service provided by a third-party external to https://www.whitemtn.com/