The Average Cost Per Data Breach Hits $4 Million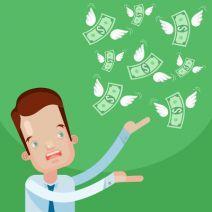 If you ever question why your business needs to take advantage of network security and all of its components, consider this fact: the average cost of data breaches, worldwide, has increased by 29 percent since 2013. Believe it or not, the average cost per data breach is now an astounding $4 million! Now, we'll ask you again; can your business afford to deal with a data breach or data loss disaster?
These numbers come from a study performed by the Poneman Institute and IBM Data, where 283 companies from all over the world were examined. The results may be quite shocking, especially for a small business that may never have experienced a data breach. Here are some of the highlights of the study:
The United States leads in terms of sheer overall cost of breaches by record value. The value per record is $223 on average. In total, the average cost of a data breach in the United States was roughly $7.01 million.
Particular industries, like healthcare, education, and finance, have a higher value per record at $355, $246, and $221 respectively.
48 percent of all data breaches were the result of malicious intent, like hacking attacks and network infiltrations.
Encryption and other security protocol decrease the costs of data breaches by up to $16/record.
How quickly a company responded to the security breach had a positive impact on the overall cost of the breach.
There's a 26 percent chance that an enterprise will be hit by one or more data breaches of over 10,000 records within the next two years.
Think about it; a data breach has far more repercussions than just the strain on your budget. It can lead to a damaged reputation, as well as lost clients and revenue. Can you afford to lose clients and revenue, and more importantly, can you recover data that's lost or stolen due to your negligence? It's estimated that businesses that fail to recover their data following a breach, will go out of business within one year following the incident.
Another point of interest is the cost associated with data breaches and loss associated with these three leading factors:
Data theft due to malicious intent
$236 per record. This is data that's considered lost or stolen due to a hacking attack, like ransomware or a network virus. Really, the sky's the limit for data theft in this category; there are so many threats out there that it's basically impossible to specifically prepare for each one.
Data loss due to hardware failure
$213 per record. This is data that's lost due to system malfunctions or hardware failure, like a server or workstation crashing unexpectedly. Unlike hacking attacks, this is something that you can prepare for, by taking proper care of your technology and keeping an eye out for warning signs.
Data loss due to human error
$197 per record. This is data that's lost when your users do something on accident, like move a file or expose credentials to hackers, that puts your data in harm's way. This is a bit more difficult to protect from, as you're relying on your end users knowing what they're doing. Be sure to educate them on best practices, and ensure that they only have access to data that they absolutely need for their position.
Is your business prepared to handle the many situations that could lead to expensive and costly data breaches? If you're not sure, reach out to White Mountain IT Services. We offer several solutions that are designed to protect your business from all manners of threats, including proactive security solutions (firewall, antivirus, spam-blocking, content-filtering), backup and disaster recovery, and user access control. To get started, all you need to do is call 603-889-0800.
By accepting you will be accessing a service provided by a third-party external to https://www.whitemtn.com/