Only 55% of Enterprises Can Identify Risky Mobile Applications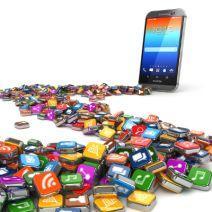 More businesses are flocking to BYOD (Bring Your Own Device) than ever before, and it's evident that it can change the way workers access information in both the office and on the go. Yet, how many businesses can accurately estimate the level of security they receive from their BYOD policy?
Generally speaking, allowing your employees to use their own mobile devices does have its merits. In terms of morale, they'll be happy that they can use their familiar devices rather than the provided workstation. Furthermore, having access to your company's data while in the comfort of their own home might encourage them to work after-hours and accomplish more. However, this doesn't come without its risks, as any business owner must know.
As shown by a recent study from Flexera and IDC, many businesses are on the fence about how to keep their organizations secure from potentially malicious applications:
71 percent of enterprises will have a BYOD policy put into place within the next two years. Therefore, it's safe to say that it's a growing trend that will quickly overtake your industry.
69 percent of enterprises will put security measures into place to block risky application behavior within the next two years.
71 percent of enterprises claim that security is at the top of their priority list for BYOD.
Despite this, having intentions and integrating a proper plan to assess the risks associated with BYOD are two entirely different things. Also revealed during the study was that many businesses aren't exactly handling the risk assessment of BYOD particularly well:
55 percent of enterprises don't have a set-in-stone list of applications that they consider risky for their business.
61 percent of enterprises don't know what type of application behaviors they should deem risky.
16 percent of enterprises report that their current BYOD policies result in a lower level of application risk.
Clearly, there seems to be a deficit in terms of actual practical knowledge of how to protect your business from rogue employee devices. All it takes to bring down a network is one infected device, so the responsibility for protecting your business's network and data infrastructure falls on your shoulders.
One of the best methods of handling BYOD is with a mobile device management solution from White Mountain IT Services. Some of the features include a comprehensive mobile device security solution, as well as the whitelisting and blacklisting of specific apps that might spell trouble for your business. We can limit which apps have access to sensitive corporate data, so your company's private data can stay that way.
For more information about BYOD and how to protect your company's mobile devices, give White Mountain IT Services a call at 603-889-0800.
By accepting you will be accessing a service provided by a third-party external to https://www.whitemtn.com/