3 Ways VoIP is Superior to Traditional Phone Systems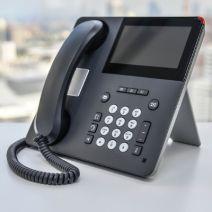 Traditional phone systems were once the only mode of communication for businesses and their clients. In-house workers would make outbound calls on a limited number of lines. The Internet changed this part of doing business for the better. Now, by taking advantage of Voice over Internet Protocol (VoIP) phone systems, your team can eliminate the cost of traditional phone systems, while investing in flexible solutions designed to improve productivity and communications.
A VoIP system works by transferring your voice over your Internet connection, rather than through telephone cables. In particular, VoIP helps small businesses that need to grow fast, but even large companies can enjoy the many benefits that VoIP has to offer.
VoIP Enhances Mobility
Do you remember the struggle associated with corded phones? You couldn't walk three feet from the phone without getting tangled up in something or another. Even with cordless phones, you still could only move so far from the receptacle before you lost signal or dropped the call. VoIP resolves these inconveniences, making it easier than ever communicate using your company-wide phone system.
Using a wireless headset, you can communicate from any Internet-connected device that has the VoIP application installed on it. This includes mobile devices, like your smartphone or laptop, which means that you can even take your VoIP device on the road with you and use it wherever you can find an Internet connection. With a little bit of configuration, you can even use it like an ordinary phone on your mobile device. This means that you can have both your personal phone number and your office phone number to communicate from. How's that for convenient?
VoIP is Flexible
The last time your business hired new employees, did you have to expand your office and install new cables so they could have a phone at their desk? If so, you know how much work goes into installing new telephone lines. Cables need to be carefully laid out, and depending on the limits of your existing phone system, you may need to perform a major upgrade just to get new staff plugged in.
With VoIP, adding new users is as simple as can be. All you have to do is set up a new user account, and as long as your Internet connection has enough bandwidth to handle the traffic, it's as simple as downloading an application.
Integrated Features: IM, Video Chat, Conference Calling
The greatest benefit that your business can get out of VoIP is the immense number of additional features that you can take advantage of. These features are generally designed to augment your current system so as to improve collaboration in the workplace. For example, VoIP can provide an instant messaging medium through which you can communicate with other members of your team. This is great for instantaneous communication that require a quicker answer than what email can provide.
Another key part of a good VoIP solution is video conferencing software, which allows your users to add a more personal touch to incoming and outbound communications. It can also be used to communicate with your remote workers. With your team being only a phone call away, it will feel like they're just a couple of rooms away.
With so many great features and benefits that VoIP provides, what are you waiting for? Your organization can save on capital expenses while improving operations. All you have to do is pick up that traditional phone for one last time, and give White Mountain IT Services a call at 603-889-0800.